Posts for category: Uncategorized
By Dentures & Dental Implants by Dr. Mohammad Kasem, B.D.S.
May 31, 2019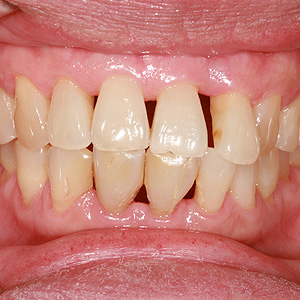 Your teeth are meant to last a lifetime. Even with wear and tear from years of eating and biting they can continue to function properly and look attractive well into your senior years.
Teeth are resilient thanks in part to enamel, the hardest substance in the human body. But the gums also contribute to this resilience: besides attractively framing the teeth, they protect the dentin and roots below the enamel covering.
Unfortunately, the gums can shrink back or "recede" from their normal place. Not only does this look unattractive, the recession can also expose teeth to disease and cause tooth sensitivity to temperature changes or biting pressure.
There are a number of causes for gum recession, some of which you may have little control over. If, for example, your teeth come in off center from their bony housing, the gum tissues may not develop around them properly. You might also have inherited a thinner type of gum tissue from your parents: thinner tissues are more delicate and susceptible to recession.
But there are other causes for which you have more control. Over-aggressive brushing (too hard for too long), ironically, does more harm than good as it can injure your gums and cause them to recede. More likely, though, your recession is a direct result of neglecting proper hygiene for your teeth and gums.
When teeth aren't properly cleaned through daily brushing and flossing, a thin film of bacteria and food remnant called plaque builds up on tooth surfaces. This can trigger periodontal (gum) disease, which subsequently causes the gum tissues to detach from the teeth and often recede.
To reduce your risk of gum disease, you should gently but thoroughly brush and floss daily, and visit us for cleanings and checkups at least twice a year. If you have a poor bite (malocclusion), consider orthodontic treatment: malocclusions make it easier for plaque to accumulate and harder to remove.
Above all, if you begin to see signs of gum problems — swelling, bleeding or pain — see us promptly for an examination and treatment. Dealing with these issues early is the best way to ensure your gums continue to do their jobs for the long-term.
If you would like more information on the treatment and prevention of gum disease, please contact us or schedule an appointment for a consultation.
By Dentures & Dental Implants by Dr. Mohammad Kasem, B.D.S.
May 01, 2019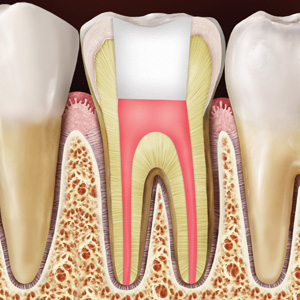 One of the most effective techniques for saving decayed or injured teeth is the root canal treatment. Yet when many people hear they need it, they become nervous at the prospect.
Much of this stems from a common misunderstanding that undergoing a root canal is painful. It's not — today's anesthetics are quite effective in numbing pain during a procedure, and mild pain relievers like ibuprofen are usually sufficient to manage any discomfort afterwards.
In fact, a root canal treatment relieves pain caused by decay within a tooth. As decay progresses, it can enter the interior known as the pulp, which contains bundles of nerves and blood vessels. It attacks these nerves causing pain and infection. If the infection progresses through passageways known as root canals that are in the roots of the tooth, the pain can intensify. More important, the tooth is in danger of loss as the root and connective tissues that hold the tooth in place are injured from the spreading infection.
During a root canal treatment, we access the pulp by drilling a small access hole, usually in the biting surface or in the rear of a front tooth. Once we enter the pulp chamber we remove all the contaminated tissue. Once thoroughly cleansed, we fill the empty chamber and canals with a special filling (usually gutta percha) to prevent future infection. The access hole is then sealed and at a subsequent visit we strongly recommend placing a permanent crown to provide further protection from damage to the tooth.
Root canal treatments are quite common. All general dentists have been trained in endodontic treatment and can perform most types of procedures. More difficult cases (like a complex root canal network that may be hard to access) may require the services of an endodontist, a specialist in root canals. Endodontists use advanced techniques and specialized microscopic equipment to treat complicated situations.
It's actually good news if we recommend you undergo a root canal treatment — it means your tooth has a good chance of survival once it's disinfected and the decay is removed. But don't delay: the sooner we can treat your tooth, the better your chances of a healthy outcome.
If you would like more information on root canal treatment, please contact us or schedule an appointment for a consultation. You can also learn more about this topic by reading the Dear Doctor magazine article "Common Concerns about Root Canal Treatment."